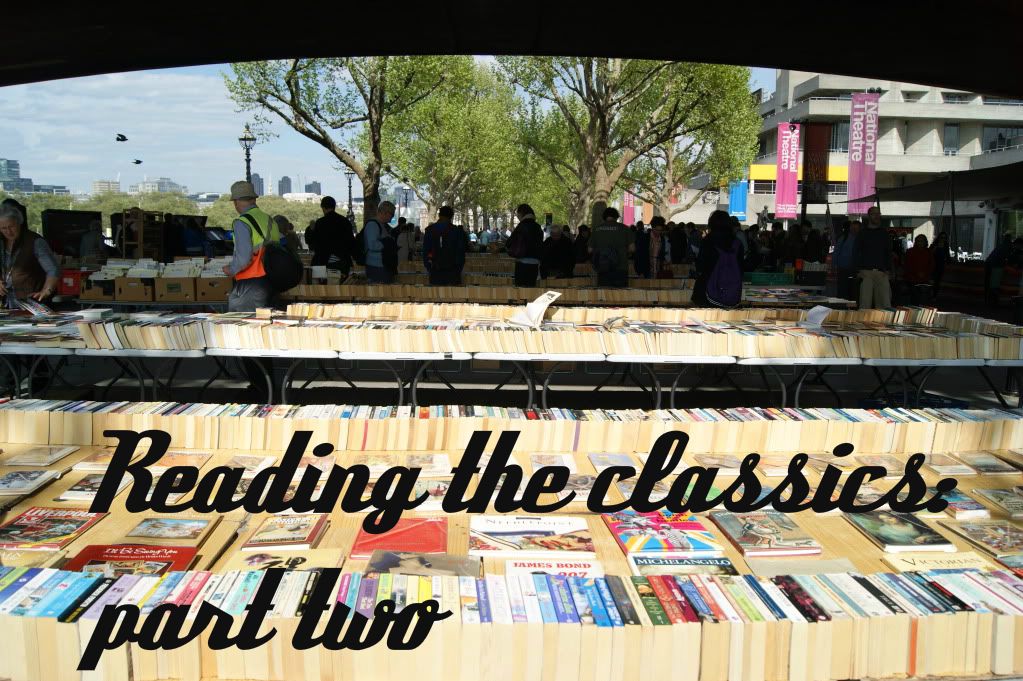 Well, let's get the confession off of my chest first. 2012 has been and gone, and I have not read all of the books on
my list
. In fact, I've only read three, maybe three and three/quarters of them. Oops. But, I'm soldiering on (I want to prove the Mr wrong when he claimed I'd never get through them all).
I mostly haven't finished because I've always found something else to read.
Courtney, you'll be pleased to know that one of the many, many books distracting me from this list was The Witches of Eastwick, by Amuurica's own John Updike. Others I've been reading? Well, a bit of Jackie Collins (she's no Jilly Cooper), Blog, Inc (meh) (is that blogger sacrilege?),
The Happiness Project
and most of the CJ Samson
Shardlake
series, which is about a hunchback lawyer in Tudor England (and of which I am a MAHOOSIVE, geeky fan). And probably some other stuff.
Yeah, I read a lot...

So, what have I finished of the actual list? I've finished Rebecca, Jane Eyre, and lots and lots of wonderful Sherlock Holmes short stories. I've been stuck in Bleak House for about a hundred years. I carried it all the way to, and round, Kenya in December and got through about ten pages. It's sat on my bedside table looking at me reproachfully. I'm really enjoying Esther's narrative, but every time Dickens starts rambling on about the weather or another character takes over, I just lose interest. But, I will finish it! Not least because I am quite intrigued about Esther. I don't believe she's nice. Come on secretly evil character!

I'm always looking out for female characters who are a bit more interesting than the average chic-lit, so it's funny that without any real thought, Jane Eyre and Rebecca ended up on my list. While I think I may have read Jane Eyre years ago, I've never read Rebecca. Reading them in close succession, I was really struck by the similarities between them. Both have horrible, dreary, awful narrators and really, genuinely fascinating silent women in the form of (*spoiler alert) Bertha and Rebecca herself. The small glimpses we get of them, third hand, suggest genuinely fascinating lives.
In Rebecca in particular, what I came away with was a conflicting, five dimensional portrait of someone who felt very real in all of her flaws (not least her terrible choice of husband. Seriously, scary man). Bertha we hear of a lot less, she's left as a plot device. But her back story? That sounds like a story we want to hear more of, but then she simply fades away (or conveniently dies. I'm looking at you Mr Rochester. Creep.)
Reading this, I think you can tell I definitely read literature through a strongly feminist lens! I still can't believe that either of the narrators, Jane or the narrator in Rebecca who is so dreary we don't even bother to learn her name, would trust either of their husbands. One of them locked his wife in an attic and the other one admitted he murdered her. Seriously, who would trust them? They're seriously sinister characters.
All in all, I LOVED Rebecca and have been busy recommending it to everyone who hasn't read it eith
er. It's engaging and compelling. It gets about a thousand cheesy thumbs up.
Jane Eyre, on the other hand. Snore. I just couldn't bring myself to care about her, and everyone aside from Bertha was just so dull and worthy. Thumbs down.
Onto the Sherlock Holmes short stories. Well, simply put: go and read them! You must, must, must check them out. They're so funny and charming and witty (and have wonderfully written female characters, ahem). I'm enjoying them via a free version on the Kindle on the daily commute. I wasn't really so sure I'd be a big fan. I (don't throw things at me) really don't like the BBC Sherlock series and I heard the series was pretty close to the original stories, so I've been pleasantly surprised.
Next up, I'm planning* to finally finish Bleak House, get through one of the longer books, and then move onto Frankenstein. Thank god for free books on Kindle. If you're on the look out for classic novels, I'd definitely check out your local charity shops as well. They're also the best place to find Jilly Cooper novels, which as we all know, are the
ultimate classics
.
* I'll probably get a bit distracted by the copy of Les Mis sitting on my Kindle at the moment.