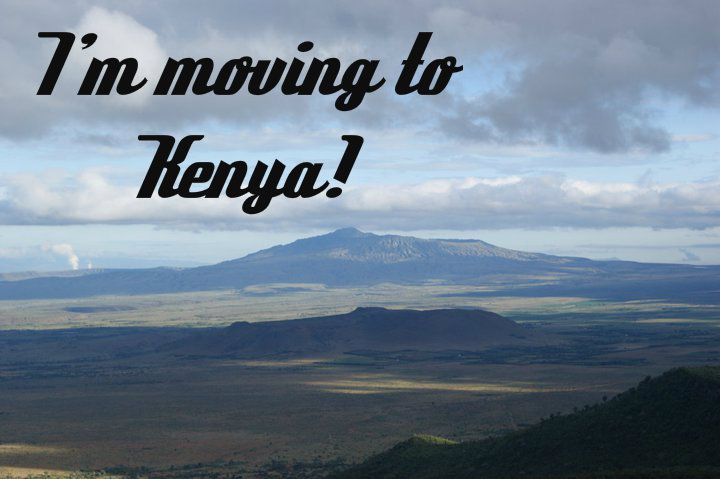 I'm moving to Kenya! Really!
I've been offered a really exciting new job, and though I'm desperately, desperately sad to be leaving my current job, I'm so excited about the new challenges and opportunities coming my way. Especially: I'm moving to Kenya!

It's been on the cards for a while, so a horrible secret to keep!

So, sometime in March (which already seems too soon) I'll be packing up a lot of bags and hauling myself over to Nairobi (which is Kenya's capital city).
Regular readers and even not-so-regular readers will be aware that I travel. I travel A LOT. Most of it is to Nairobi! It's wonderful and exciting, but it does get old after a while. I'm looking forward to spending more time living in Nairobi rather than working my socks off in a hotel room every night! I'm also looking forward to my carbon footprint improving a little bit.
The epic, epic downside to this move is this: The boy can't come with me. He's going to be holding down the fort (maybe literally) in London, at least to begin with. Partly that's due to his own life around these parts (I know, so rude), partly that's to do with the fact my contract at the moment is only for a year, and uprooting his entire life for that short a period doesn't seem fair. He might join me later, but we'll see (and hope).

I'm really lucky because he's been really supportive about this*. We've been together for almost six years, and this move has a.) always been something I've wanted to do, and b.) kinda vital for any career progression from here on in. In other words, something we've regularly talked about over the years and something he's been pushing me to do* before it's too late, and you know, babies kinda limit my ability to swan off for a while.
*shoot, maybe he wants to get rid of me?!
Let's not lie, doing the long distance thing is going to suck. After living together for six years, it's REALLY going to suck. But, it's something we both agreed to, well ahead of the actual event turning up, and are committed to making it work. I think that's as much as anyone can do, particularly while I haven't left yet.
But, the bonus of so much travelling over the past couple of years is that I've built up a pretty decent collection of airmiles, so we're hoping to be able to see each other fairly regularly- at the moment, we're planning to aim to see each other every 2-3 months.
The tiny silver lining on this part is we'll be keeping our house, at least for the first six months. Limited packing. Sweet.
I'm already looking around our home thinking about what I want to take, but trying to make sure I don't pack up everything and leave the boy with a very bare looking house, and trying to start mentally preparing for all of the goodbyes I have to say. I'm rubbish at that part. At the same time, I'm also planning a long weekend to Madagascar with some friends who live in Joburg. How spoiled to be able to say that!
I'm so excited to be sharing this exciting adventure with you all. It's going to look very different around these parts, that's for sure! If you have advice, tips or questions about moving country (GAH), hit me up!