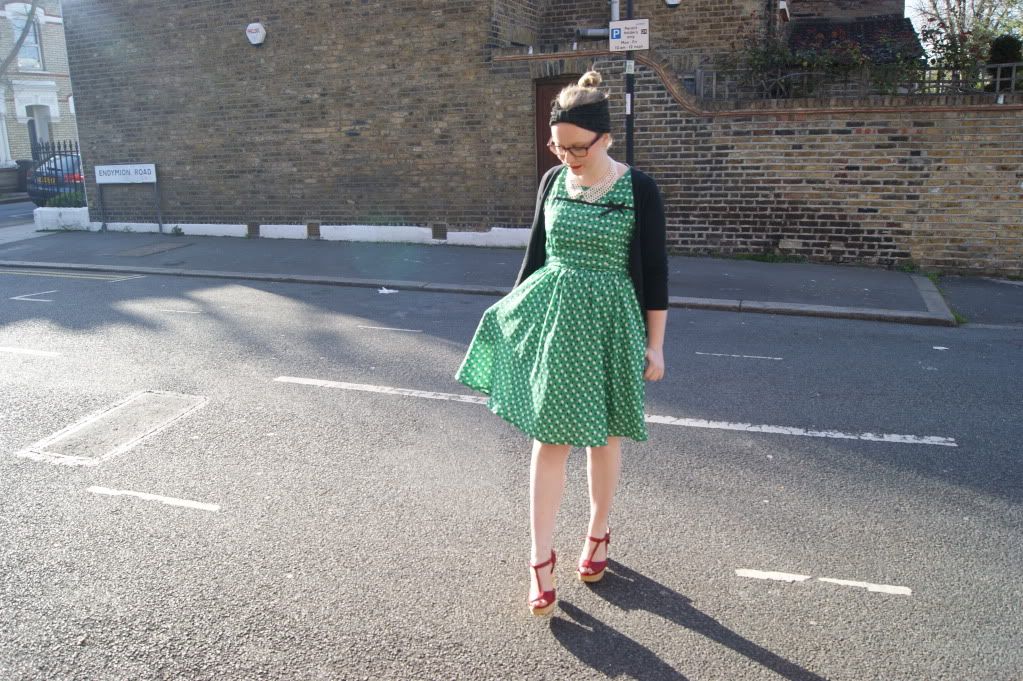 Dress: Joy // Collar: Topshop // Shoes: Jeffrey Campbell // cardie: H&M // headscarf: Miss Selfridge
I'm not the sort of person who saves a new outfit for best. As soon as that bad boy gets home with me, it's usually on immediately. So even though I've done nothing today, except have a driving lesson, clean, iron and bake, I was in fact wearing this outfit all day. The Boy decided it was quite Betty Draper-esque of me this afternoon. I was sat, ironing with red lippy on and a tumbler (all of our wine glasses have broken...) of wine!
I'm rocking my lovely JCs again. Comma, as they are called, rather than Coma,
as I told you last time I wore them!
The dress is from Louche, and I love the ladylike length on it. I have a weird thing about my knees, so almost every summer dress I own skims my knees. (This knee thing doesn't count in the winter or spring or autumn because of tights!).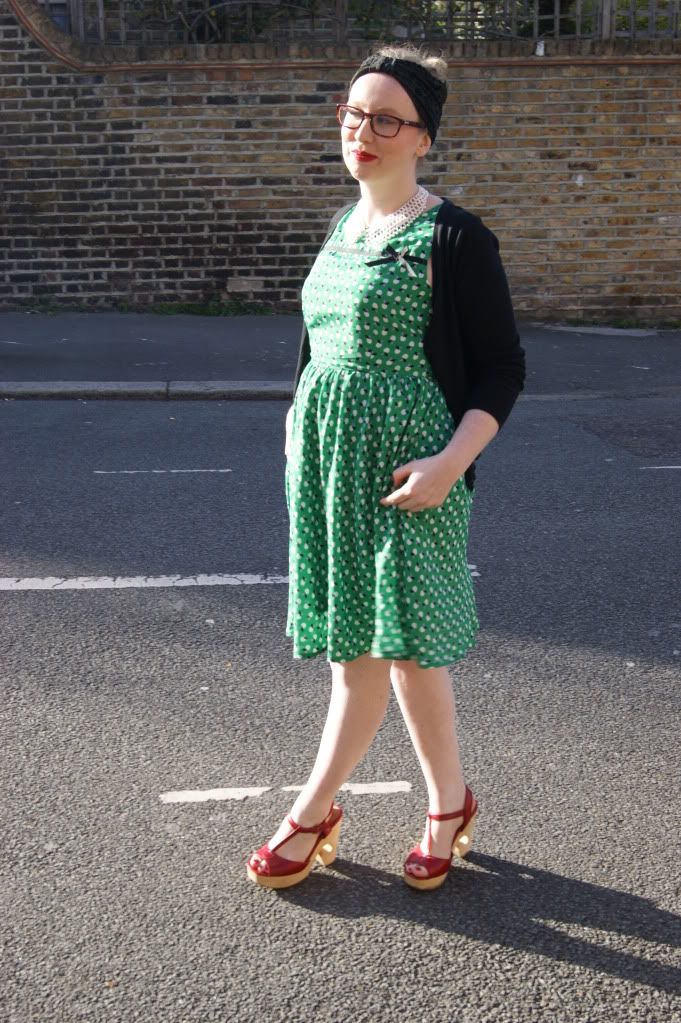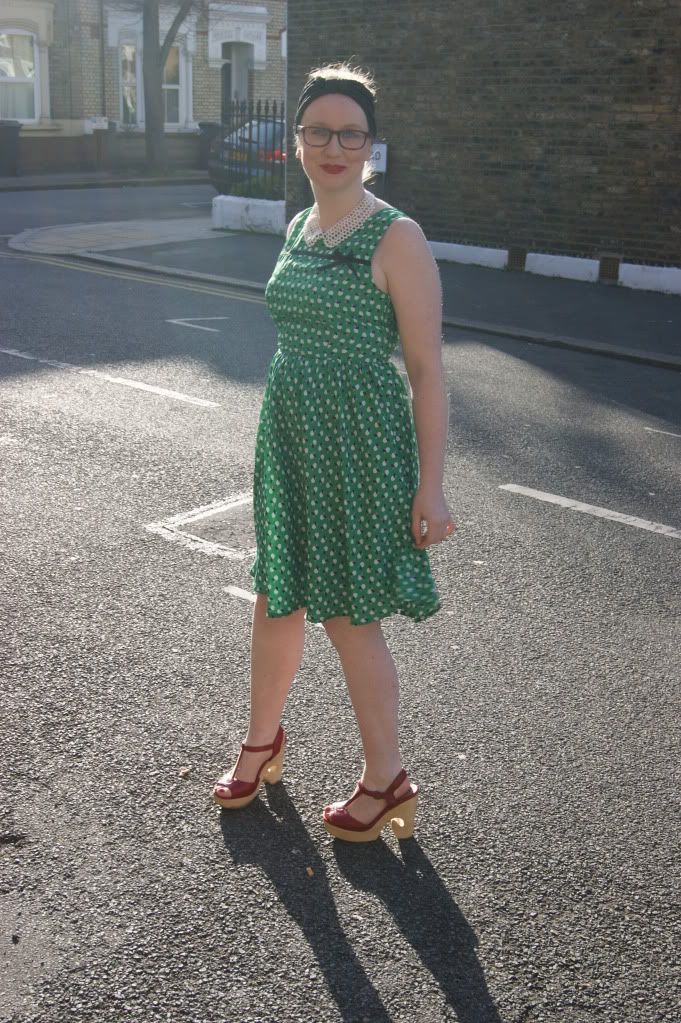 Rumour has it that the bad weather will be returning tomorrow, so I couldn't resist wearing this totally cheerful little number. And check it out- first bare legs of the year...in the UK anyway!
This is paired with a super cute beaded collar I passed-by in the Liverpool TopShop over Christmas, instantly regretted it and have been looking for ever since (yeah, I avoid TopShop's website because I will spend tooooo much money on that thing!).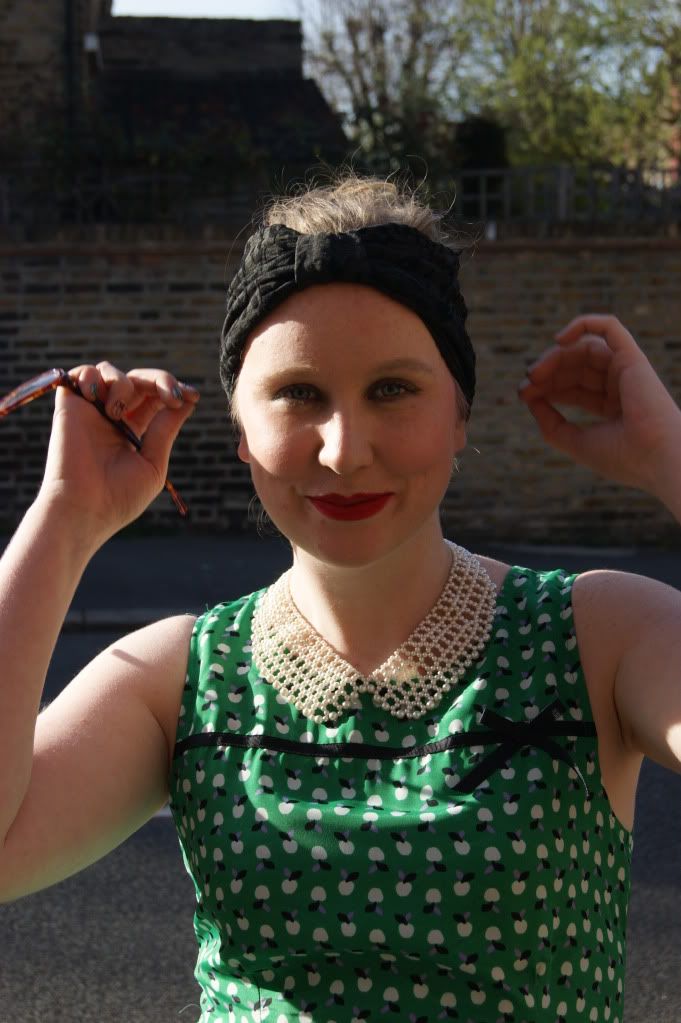 I've had a lovely relaxed weekend, and just two more days in the office before my long weekend begins! Wohoo! I have loads of exciting plans, like...um....going to Croydon Ikea, and .... er.... sleeping and.... well....crafting (FINALLY). What have the rest of you got planned for the long weekend?
P.s. My lovely US-based friends, Louche, this dress' brand is stocked at Modcloth. I can't find it there at the moment, but keep your eyes peeled!