Pity my poor aunts and uncles. There are (at last count) 17 cousins in my Mum's family (plus 7 siblings). And every Christmas, some of them really do buy us aaaaall presents. Lucky me (and my family).
This lovely is something I was very lucky to receive this Christmas and am now massively, completely and totally in love. (My sister better watch out because I'll be after her's one I'm finished). L'Occitane's orange honey shea butter balm.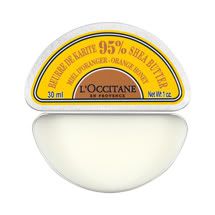 L'Occitane Shea Butter: you can see it here
I love multi-purpose items. I've used this stuff on my hands, on my feet, on my dry-as elbows. I've used it on my hair (bye bye fluff).
But the main reason I love it is because I get horrible chapped lips. Horrible, horrible chapped lips that linger for days and weeks on end. This sucks for numerous reasons, but the biggest reason is because it stops me wearing lipstick. Yesterday I could feel it starting. My the evening, they were here.
BUT THEN... I smacked on this bad boy. Last night and twice today. AND THEY'RE GONE. I cannot explain how excited I am. Completely gone! I've already put some lippy (
MAC's Ruby Wo
o) on in celebration (sitting on my couch, under a blanket, watching How I Met Your Mother).
At £10, it's much more expensive than I would ever pay for something like this. But I'm completely converted! Plus, and more frivolously, it's in an orange segment tin!!
Do you have any miracle or go-to remedies?