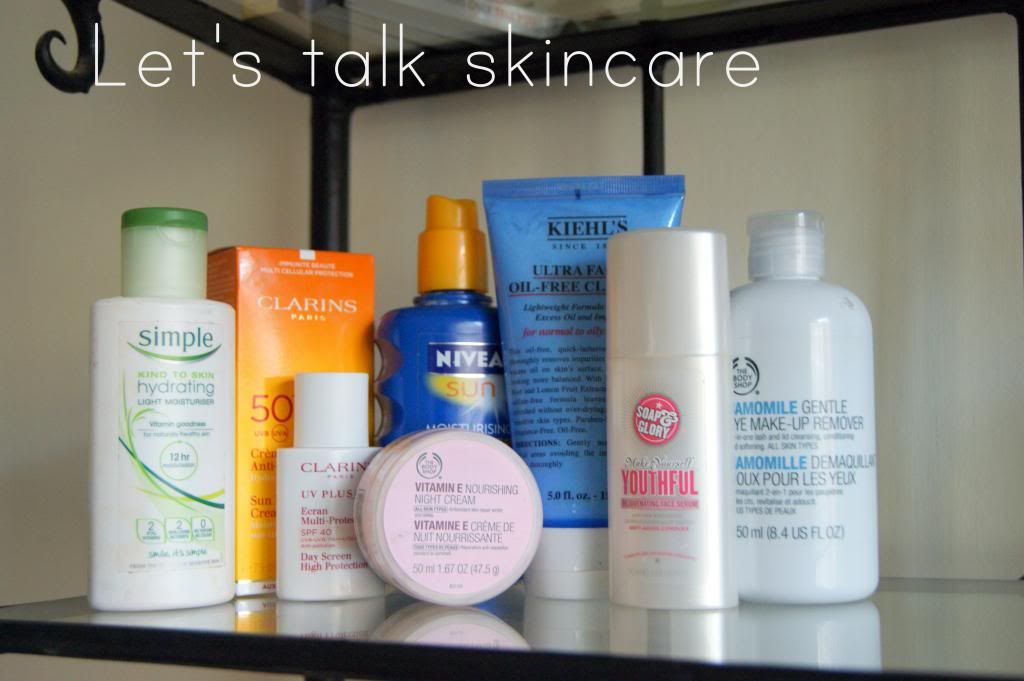 So, the one thing I figured I needed to change pretty sharpish when I moved to Nairobi was my skincare regime. I say regime. If I was feeling energetic before bed, I'd have a quick wipe down with a cleansing wipe. If I was feeling
really
energetic, that might be some Simple cleanser. In the morning, I'd just slap on the make-up again. Not really all that good for my skin (my excuse always being that I have a baby face, so it's clearly all fine).
Well, it's clearly not all that fine. And while Nairobi doesn't often feel very hot, there are enough examples of long-term sun damage walking around to make me behave myself. More seriously, I had a mole-scare right before I moved- while it turned out to be completely fine, I realised I really can't mess around with my skin. I am a pale, pale girl who lives in a very hot place. I burn really easily and whether I like it or not, am therefore at a higher risk for skin cancer. This means suncream is now my best friend. I really, really recommend it becomes yours too.
Ok, lecture over. Frivolity ahead.
Let's start with the evening. This makes sense in my brain as most of my skin-lovin' takes place at night, so roll with it. Once I'm home for the evening, I take off my make-up (and with it, horrible amounts of dirt, dust and pollution). I'm currently using
Kiehl's Ultra Facial Oil Free Cleanser
. I LOVE THIS STUFF. You only need a tiny squeeze, it lathers up like a dream, and leaves my skin feeling squeaky clean but not tight or dry.
I wipe off the last of far too much eyeliner with the Body Shop's
Camomile Eye Makeup Remover
- the only thing I've ever used which gets every last bit of mascara off my lashes, This is followed by a squeeze of
Soap and Glory Make Yourself Youthful Serum.
Before bed, I use the Body Shop's
Vitamin E Night Cream
, which always feels like a real treat for my skin- it's so thick and unctuous! And it always reminds me of when I was a little girl and would stay over at my Grandparents' house. In the evening, right before my bedtime, my Grandma and I would stand in the kitchen rubbing Oil of Ulay (as it was then) into our faces. It's nice to think of her when I'm standing on my own doing the same.
Once I've had those 8 hours of beauty sleep (HA!), the morning is much quicker. A wee bit of
Simple hydrating light moisturiser
if my skin feels a bit tight after my shower, followed by
Clarin's UV Plus Day Screen High Protection Factor 40
(longest named product ever). It's a super small bottle, but it only takes a few drops to cover my whole face. I'm not sure it's the perfect product for my skin, to be honest, but it's not oil based and doesn't ruin my make-up if I reapply it during the day so I'm giving it a bit longer before I try something else. I'm alternating it with
Clarins Sun Wrinkle Control for Face
, but I think this is a better product for holidays rather than daily use.
Finally, I use
Nivea Suncream
in Factor 50 for any other parts of me exposed to the sun , especially my neck, ears and hands. I'm a huge Nivea fan and if you use high factor suncream too, I think it's thee absolute best. It's the only one I've tried which isn't really thick and difficult to rub in. It absorbs really quickly and without leaving streaks.
What are your essential skin products? Anything you'd recommend I add to the list to try? D is coming for a visit soon, so it's an opportunity for me to stock-up!
p.s. Since Google Reader is closing (seriously unimpressed, btw), you can follow Unbecoming via Bloglovin here!